U.S. CIVIL WAR STORE CARDS
From NBSwiki

U. S. Civil War Store Cards


The One Hundred Greatest Items Of United States Numismatic Literature Rank: Number 43


---

Clain-Stefanelli 14021*. Davis 423.

Melvin and George Fuld's compendium of "civil war cents" brings order to a chaotic assemblage of over eight thousand varieties, issued by U.S. merchants in response to the lack of circulating hard money beginning in 1862. The experiment with privately issued coinage was quickly put to rest by an act of Congress, which in 1864 prohibited the practice, but not before millions of the commercial tokens (known as "store cards") had been produced. The Fulds' six hundred plus page work categorizes these tokens by state and includes photographs of nearly every known type. Credit is given to any number of individuals, as this herculean task was beyond even the dynamic duo of Fuld father and son, who edited certain portions while authoring others. Together with Patriotic Civil War Tokens (#41), Melvin and George Fuld thus delivered the standard and enduring presentation of these metallic expressions of the American conflict.


First Edition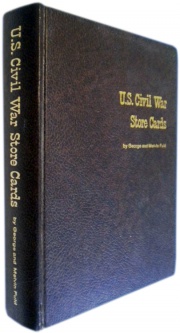 FULD, George & FULD, Melvin. U. S. CIVIL WAR STORE CARDS.
n.p.: Civil War Token Society, 1972
(2), xxxviii, 615, (1) pages, illustrated
Octavo
Hardbound: Brown leatherette, lettered in gilt

Second Edition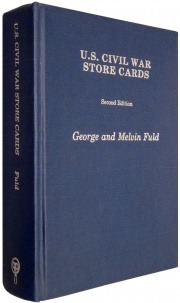 FULD, George & FULD, Melvin. U. S. CIVIL WAR STORE CARDS.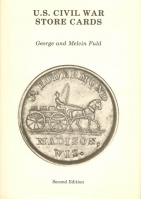 Lawrence: Quarterman Publications, Inc., 1975
(4), vi, (2), 615, (1), 30 pages, illustrated
Octavo
Hardbound: Navy blue cloth, lettered in gilt, dust jacket