MEDALLIC PORTRAITS OF WASHINGTON
From NBSwiki

Medallic Portraits Of Washington


The One Hundred Greatest Items Of United States Numismatic Literature Rank: Number 97


---

Certain numismatic topics demand a complete re-examination every century or so. We are fortunate to be living in the golden age of "round two," as Bowers revisits Crosby and other works, such as this, come to the fore. "A complete revision of Baker," per the introduction, the authors have built upon the 1885 foundation (#47) with countless sale citations, references to private and institutional collections, and a thorough photographic record. Moreover, new Baker numbers are assigned to the host of issues produced since 1885, perhaps the ultimate tribute to the initial work, for few would have quibbled with a new series of "R-F" designations. No doubt the torch will again be taken up in a hundred years by an ambitious newcomer, who will have not one but two ancient texts to preserve.

Note: Bibliographically, this entry is the second edition of Medallic Portraits Of Washington, With Historical And Critical Notes. However, due to voting results of the Top 100, this edition has it's own entry.


First Edition
Please see: MEDALLIC PORTRAITS OF WASHINGTON, WITH HISTORICAL AND CRITICAL NOTES.

Centennial Edition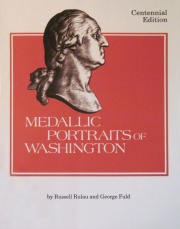 RULAU, Russell & FULD, George. CENTENNIAL EDITION. MEDALLIC PORTRAITS OF WASHINGTON.
Iola: Krause Publishing, 1985
308pp, illustrated
Quarto
Softbound: Printed card covers

Second Edition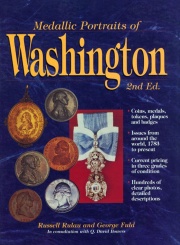 RULAU, Russell & FULD, George. MEDALLIC PORTRAITS OF WASHINGTON.
Iola: Krause Publishing, 1999
318 pages, illustrated
Quarto
Hardbound: Pictorial boards