EARLY AMERICAN CENTS
From NBSwiki

Early American Cents


The One Hundred Greatest Items Of United States Numismatic Literature Rank: Number 16


---

Clain-Stefanelli 12340. Davis 928. Sigler 2313a.

Early coppers are the core of American numismatics, and if one is doubtful, a few hours in the company of Sheldon are sure to convince otherwise. Early American Cents is the first comprehensive treatment, describing in great detail 295 varieties of the years 1793-1814. Along with the complete photographic record the technical content is outstanding, but even more appealing is Sheldon's sheer enthusiasm for the ancient coppers, bursting with the history and promise of the first United States Mint. The various dies demonstrate the struggles of the early engravers and pressmen heroically trying to compete with their European brethren. Sheldon often romanticizes, but the reader is more than happy to go along for the ride. Equally compelling is the market data shared by Sheldon, who chased the large cents for a long period of time and took careful notes. Sheldon concludes the narrative with a memorable tale of "old cent whist," conducted at Henry Chapman's office in 1918, and permission is hereby given to the uninitiated to sneak a peek at the end of the book first!


First Edition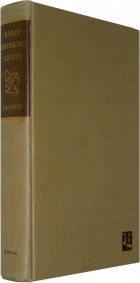 SHELDON, William H., Dr. EARLY AMERICAN CENTS, 1793–1814. AN EXERCISE IN DESCRIPTIVE CLASSIFICATION WITH TABLES OF RARITY AND VALUE.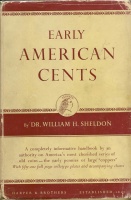 New York: Harper & Brothers, 1949
xvi, 339, (3) pages, 51 plates
Octavo
Hardbound: Tan cloth, dust jacket

Second Edition

See: PENNY WHIMSY.